Who We Are
The Wyoming Association of Community College Trustees (WACCT) is a 501(6) organization with all 49 trustees from the seven community college trustees (working collaboratively with the college presidents) serving as members. WACCT is a one-person shop with Erin Taylor serving as the Executive Director. Erin's primary role is to advocate for Wyoming's seven community colleges and support trustee education through the association. WACCT works cooperatively with the Wyoming Community College Commission, the state agency charged with the following duties: administration and budget, business analytics and support, college and career readiness, state tuition assistance program management, and research and policy. The WCCC has several staff members and an Executive Director, Dr. Sandy Caldwell. The WCCC staff report to a Board of Commissioners who are appointed by the Governor. The Commissioners have the duty to oversee the WCCC budget, approve programs for the colleges, set tuition, and approve capital construction projects, among other things.
WACCT works closely with our industry partners and the University of Wyoming in front of the Wyoming Legislature and policy makers.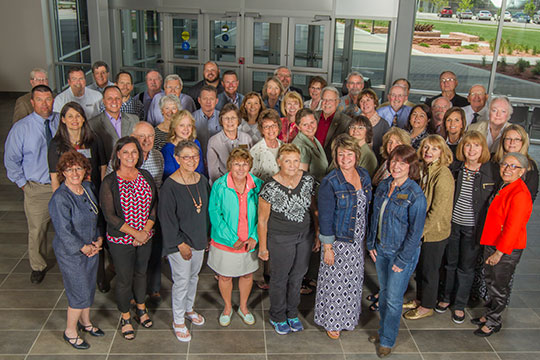 Trustees, presidents, college staff, and ACCT staff all participate in the GISS training at Casper College!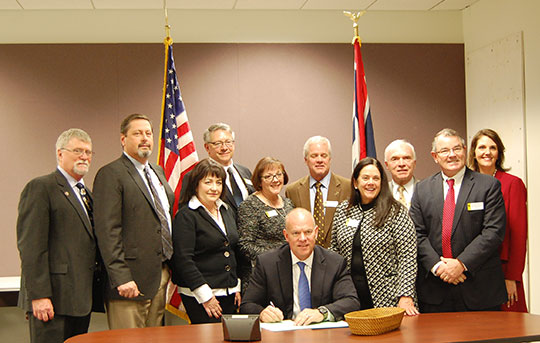 Governor Matt Mead signing HB 80 Community College Budget Request Re-calibration
Upcoming Events
WACCT Awards and Legislative Reception and Trustee Education – February 12, 2020Register Here

Feb 12, 2020 Schedule of events (LCCC):

7:00 A.M. – 8:30 A.M. – WACCT Board Meeting, Continental Breakfast
8:45 A.M. – Noon – Trustee Education – Advocacy Training for the $30M Budget Proposal
Noon – 2 P.M. Luncheon Roundtable with Commissioners
2 P.M. – 5 P.M. Trustee Capitol Visits – Wyoming State Capitol
WACCT Awards & Legislative Reception (click for invitation) ~ LCCC Clay Pathfinder Building, ANB Bank Leadership Center

5 P.M. | Cocktails and hors d'oeuvres
5:45 P.M. | Award Ceremony
6:30 P.M. | Legislative Reception

WCCC meeting February 13, 2020
New Wyoming Works Brochure
The Wyoming Works program provides programs and resources for adult students to learn a skill and secure employment. The program makes available individual grants for students enrolling in approved programs at a Wyoming community college.   Click here to see the newly developed Brochure providing information on the program as well as what our partners at the community colleges are offering. The non-credit programs were approved by the Wyoming Community College Commission at their October meeting. Please take a look and pass the information along far and wide!
​This brochure was developed in partnership with the Wyoming EXCELS committee within the Wyoming Business Alliance, the Wyoming Community College Commission and WACCT.