Who We Are
The Wyoming Association of Community College Trustees (WACCT) is part of the American Community College Trustee (ACCT) network – a non-profit educational organization of governing boards, representing more than 6,500 elected and appointed trustees who govern over 1,200 community, technical, and junior colleges in the United States and beyond. Located in Washington, D.C., ACCT is a major voice of community college trustees to the presidential administration, U.S. Congress, the Departments of Education and Labor and more.
Here in Wyoming, WACCT educates community leaders, policymakers, and technical college trustees through annual conferences focused on leadership development and advocacy, as well as through publications and online and face-to-face institutes and seminars.
Wyoming Community College Commission Interviews Executive Director Candidates
The search committee for the next executive director of the WCCC has narrowed the pool down to two candidates. They will be in Cheyenne on April 17 and 18, one candidate per day, with an open forum from 11:00-12:00 each morning and a reception from 6:00-8:00 each evening.
Locations for each event are as follows:
April 17 open forum 11:00 am – 12:00 LCCC Health Science 309
April 17 reception 6:00-8:00 pm LCCC Training Center 120
April 18 open forum 11:00 am -12:00 Pathfinder 409
April 18 reception 6:00-8:00 pm Training Center 120
Please join us as there will be an opportunity to provide input on both candidates. If you cannot attend in person, there is an option to participate through BlueJeans conferencing service.  Please contact your college for details.
Click here to learn more about the two finalists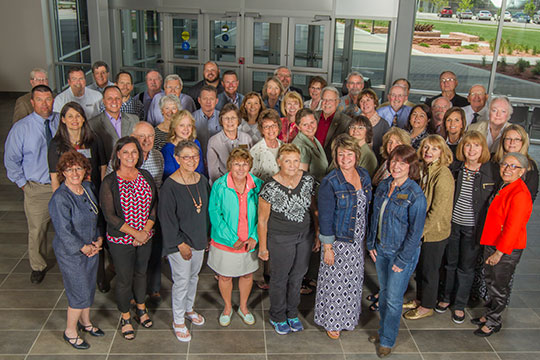 Trustees, presidents, college staff, and ACCT staff all participate in the GISS training at Casper College!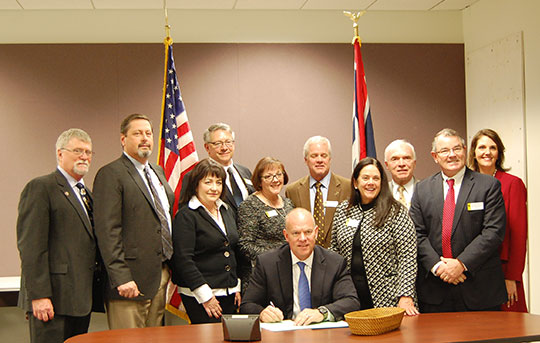 Governor Matt Mead signing HB 80 Community College Budget Request Re-calibration
Upcoming Events
WACCT Board Meeting – April 26 – Eastern Wyoming College – 3-5pm in the CTEC Building, room 218 ~ Agenda
Wyoming Community College Commission Meeting – April 27 – Eastern Wyoming College
WACCT Board Meeting – June 6 – Northwest College – Time and room TBD
Wyoming Community College Commission Meeting – June 7